Hi everyone !
In this post I will described several ideas so we might need to split everything in different post afterwards. Still I would like to have feedback from the community before doing so as I might have find a tool that enables us to do everything at once.
(thanks @Rachel)
What is the need / problem
We have regularly questions around what is our current map showing :
what does the color mean ? People think that red = shop is closed, green = shop is open. So they have the fealing everything is closed as we have more users with shops (so mostly red pointers). This gives a bad first oppinion on the OFN.
See this feedback from Lynne on Slack as well :

People what to search with specific addresses or products categories, but the filters are not precise enough (payment options, opening hours, type of products…)
There are Enterprises who are or want to use OFN for profiling and mapping food system actors that are:

not producers or shops / hubs; and/or
with greater differentiation between food hubs / shops / producers e.g. more clearly see CSA, farmers' market etc
Who does it impact ?
Instance managers / communities working with people who want to use directory / search
Groups wanting to showcase broader activity / actors in their group than just producers and hubs
Local government wanting to showcase their territory
What is the current impact of this problem ?
I'm not sure the map is used at all. It is misleading more than anything else.
What is the benefit in focusing on this ?
Drawing more users, particularly groups onto OFN through gradual improvement of directory / search.
Ideas / Feature Candidate
If we do it ourselves :
Use another Open Source tool :
I've found Gogo Carto :
example : https://www.presdecheznous.fr/annuaire#/fiche/LES-POTAGERS-DE-MARCOUSSIS/Ajb/@48.749,2.279,11z?cat=Alimentation)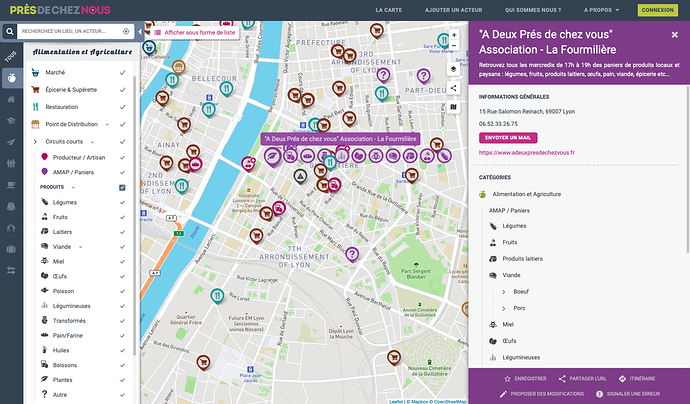 Repo
:
https://github.com/pixelhumain/GoGoCarto
What do you guys think ? @Matt-Yorkley @Hugs @sauloperez @luisramos0 @lin_d_hop @Danielle @NickWeir @Theodore @Kirsten
Other wishlist on same topic (= improve current OFN map)
to integrate in the discovery work, so that then we can phase and propose what scope to prioritize in v1.