How does it work?
NB: Italicised sections describe the desired state - not yet implemented. More info for implementation included under TO DO
Enterprise User can access E2E links via


NB. Need to use the URL directly at the moment as access has not been given
This shows E2E links where
I own or manage both Enterprises in the E2E link (enabling view, edit, delete)
I own or manage the Enterprise that is permitting another enterprise (enabling view, edit, delete)
I own or manage an Enterprise that is permitted by another Enterprise (enabling view, delete) [ see Permissions / View below]
I can create E3E links from Enterprises that I own or manage to any Enterprise in the system

TO DO
Quick Usability Fixes
add button to quickly select all permissions

enable editing of existing relationships (turn on and off attributes)
only where User owns or manages the Enterprise that is granting permissions
enable search / filter by permission type e.g. show me just P-OC or P-OC and P-p/v
enable selection of multiple enterprises in dropdowns (checkboxes or different additive control?) so that I can quickly set-up the same permission for multiple enterprises e.g. in example below I want all of my producers to be available to my friend who is opening a new hub in the next town
split by permissions granted and permissions received [tabs?]
select by Enterprise first?
Permissions / View
need to see [but not edit?] P-OC granted to my Enterprises by others e.g. from super-admin I can see . .

but as owner of OFN Independent Hub I can't [YET] see this (this has been fixed - Sally)

Request permissions from an Enterprise I don't own or manage
Needs design discussion. Could be done by
Create . . then goes into pending
Places somewhere in receiving enterprise's account (dashboard? E2E links page?), requiring them to approve
sends them an email with direct link to where they can approve it
ultimate - they can do from email without logging in . .
they can turn on/off attributes e.g. granting you more or less than you asked for
your dashboard / E2E links page shows approval
you get email letting you know that they have done it
later - would like to be able to do this from the front e.g. if i am an enterprise user browsing the map and profiles, I can 'request' that you let me add you to my order cycles, or 'offer' for you to add me [probably just for add to ocs, everything else from the back?]
Help
This page will definitely need some kind of drop-down help info and/or some 'what's this' text, explaining the implications of the different permissions
I wonder if we could implement some Help / Please Explain info throughout, using something like the 'Type' dropdown that appears when you have a single enterprise
(Here's a table describing implications of each permission- Sally)…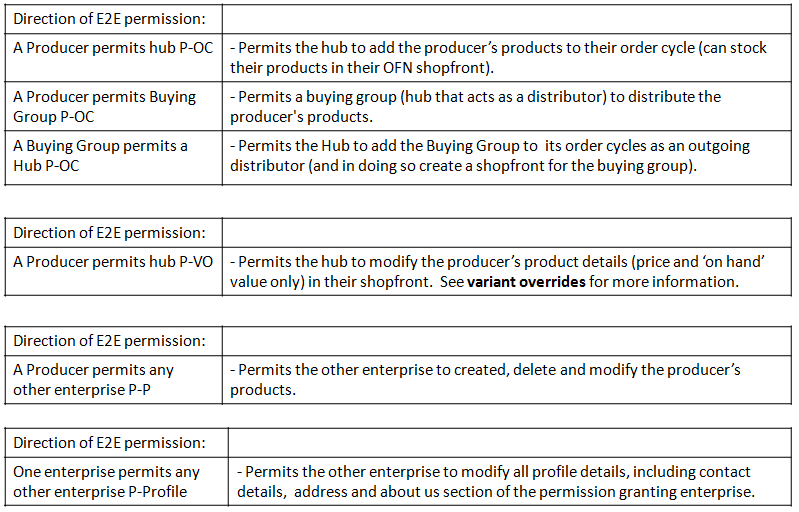 Questions
When I am creating a new E2E relationship with permissions, and an old 'link only' relationship exists, should:
automatically replace / override OR
give me the option?
Known Issues
E2E Permissions: should I be able to allocate 'Manage Products' permission if I am not a Producer?
Can Dashboard list show Enterprises that I have permission to do stuff with e.g. add to OCs, MPs, but show them differently e.g. greyed out or something?