Continuing the discussion from Useability of E2E link management:
##Whishlist:
1- When I create a hub, I automatically get the right to create more than 1 entreprise (entreprise limit = infinity, or 1000 if you prefer). This is also valid is I create a producer profile and when I change my profil to become a "hub".
(that will avoid any manual action to change the entreprise limit of a given user)
2- When I set up my entreprise, at the end of the different screens that drive me in setting up my hub, I propose to add some screens to accompany the process of linking my hub to existing producers OR creating the producers I want to work with.
3- In the entreprise admin panel, I also propose to add a menu "my suppliers" where the hub manager can see which entreprises he is connected with, and can "add new" either by connecting to existing entreprises or by creating new ones.
Here is an example of what I have in mind for point 2: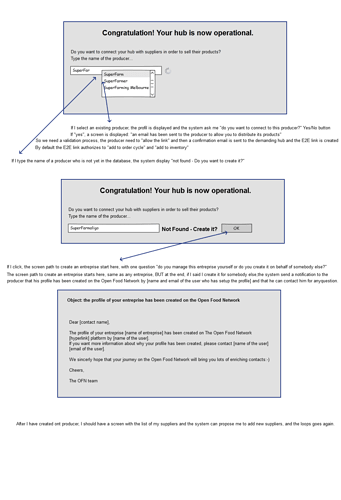 Is it also a need for other instance? @CynthiaReynolds @NickWeir @danielle? @sstead how do you do in Australia, do you manage everything manually so far? For me its a strong bottleneck to scale…