Use case:
A CSA type box scheme hub also offers bulk products for sale at the delivery place.
They are thinking about switching to OFN and use and build with us the Standing Orders features for the box scheme subscription, and for the additional "bulk part", they would like their members to be able to put money on their wallet (fill in their hub wallet on the OFN) so when they buy bulk items, on the delivery place, they can capture what they bought on the OFN and pay with their wallet.
Technically it means that we need to allow a payment from a customer to a hub that is not connected to an order and for which they decide about the amount. I don't know how that can happen…
Here are my thoughts for the first steps: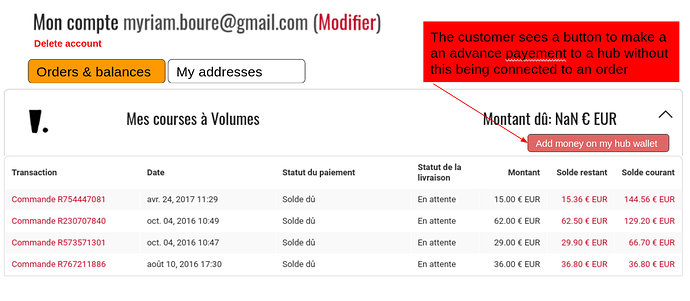 Questions before I can move forward:
1- @enricostn @sauloperez is there anything in Spree 2.0 that covers that ?
2- Else, is it technically possible to "link" this payment with the last order passed by the customer, so if it was a 20€ bill, they put 150€ on their wallet, the amount is added to the "payments" for that order and a positive balance appear on the account ?
3- How to do if there were no previous order ? Does spree accept a payment without order ? How will it be displayed ?
…
@lin_d_hop have you thought about that already from UK ?
@sstead that was part of the CSA features I think, no ? CSA software features
Also recalling the post on customer account : Customers can View their Payments and Balance
Will keep thinking on that, feel free to share how you see that.