The menu for the backend is getting pretty crowded (and will only become more so)

The menu does not allow users to access a given page from any other page (for example, if you want to access Enterprise Relationships from say the products page, you would first have to click on Enterprises, which would take you to the enterprise index, and then click on Relationships in the sub menu). This is slow and tedious.

The framework that we use in the frontend (Foundation Zurb) is much nicer to deal with than the default Skeleton framework that the default spree admin interface is built in and it has some components (accordions, modals, etc) that would be nice to have access to in the backend.
With these issues in mind, the Aus Dev team had a brief discussion about possible solutions and talked about the idea of switching to a side menu. I had a quick go at prototyping a side menu, and switching the framework from skeleton to foundation. There are some obvious styling issues that will need to be resolved, I haven't done the work of rebuilding the page title and actions bar at the top of the page and there is quite a bit of work to do to fix the row structure on every page.
Basic look: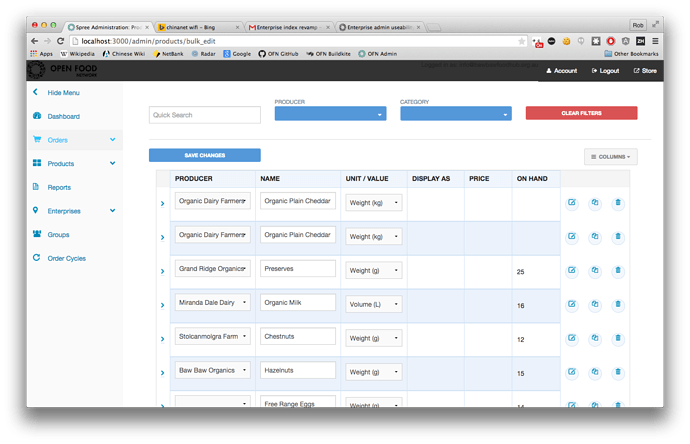 Dropdown menu items: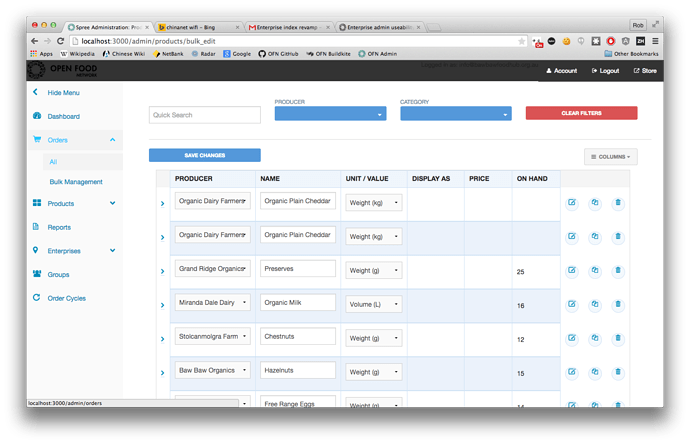 Minimised menu: