What is the need / problem ?
I've received a lot of complains that it is annoying to get stock availability issues when trying to checkout.
These complains are mainly coming from people trying to checkout as guest.
Indeed, while you are typing your credentials (address etc) the last stock item of a product you had in cart can be checkout by someone else. What happens:
You hit checkout and an error then appears to explain you cannot buy this product anymore. Yet you maybe spent 6 minutes to fill everything… you were pretty sure the item was already yours. Grumpy mode level 1
So you go back to your cart, make changes, then come back to checkout and you discover you have to fill everything in again. Grumpy mode level 2 engaged…
And of course you can again have the problem while filling the page a second time…
This is annoying when you are used in other ecommerce website to have a secure cart while typing your credentials.
To avoid locking carts for people that might never return to the website, this is often done with a timer: you get something like 20 min to finish filling in your credentials. After these 20 minutes, the stock of your items will again be available to anyone else.
Some screenshot found on the web to illustrate what I'm taking about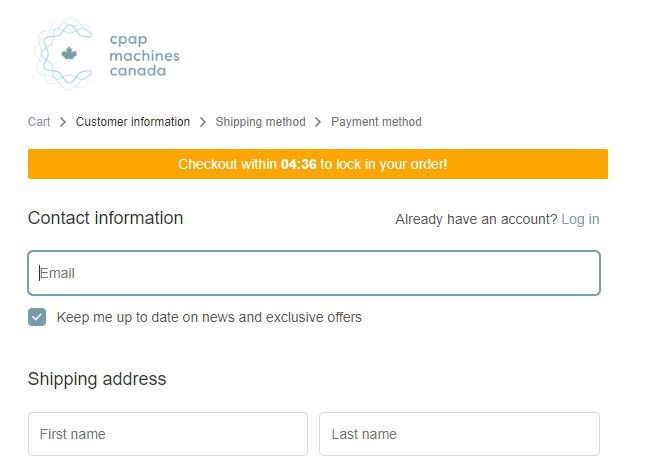 What I like about this idea is that it could also help people who are not used to ecommerce website to understand that landing on /checkout does not mean your order is complete (my hubs are currently calling all their users with uncompleted orders, I don't have specific numbers, but all the hubs I'm following have the problem: people don't get they need to scroll down and hit checkout).
Having a clear banner saying the order will be completed only when all the steps below are done would be awesome.
Maybe we can split the two as the timer might be something complicated, but most people who don't understand how to complete an order are also people who will be very slow to fill this page. So they are a bit the same target as guest checkout. It could be nice to secure their cart while they do that and explain to them that we cannot hold on forever.
What do other think about this ? To much for OFN? Our current stock issues won't last after Covid-19?
ping @lin_d_hop @Kirsten @tschumilas @danielle