Hi everyone,
I would like to share with y'all a proposal for the OFN Product Overview - from henceforth called the Product Map.
What is a Product Map?
Great Question! Probably it is the kind of term used in different places to mean different things. Here we mean it as a high level overview of the product. It doesn't have all the details, but it shows at a high level what the OFN tool does.
Why have a Product Map?
OFN is a complex product. It's complex for users. Its complex for support teams. It's complex for devs, testers, designers, product teams. Yeah, complex.
Having a basic high level overview of the product will help us in a bunch of ways:
For new comers to the project we can send them the Product Map to help them get their bearings in understanding what OFN is and what it does
For support teams, it can help us to tag and group support requests so we can start to use this as a metric in deciding what to work on next. We're not scalable if our support teams become overloaded.
From a technical perspective it might help us understand the unpacking of the monolith
From a product perspective it can help us to view the product as a whole and prioritise
Convinced? Great!
You can find the draft product map here. And also in this wee image: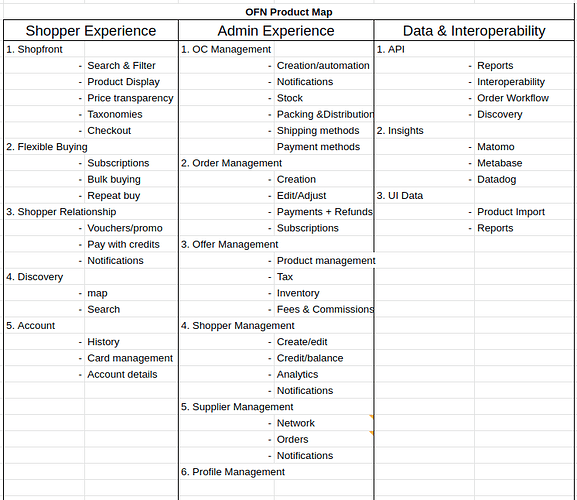 Note that across each area of the Product Map we have four key areas of focus:

Next Steps
It would be great to hear from all the support folks, instance mangers, devs, testers, designers, product folks… just the whole community as to whether this map matches your ideas about the OFN Product as it stands today. Please do suggest anything that doesn't feel or look right, anything missing, anything superfluous.
Once we're all in agreement for our v1 (we ain't etching this in stone. It can be changed as we learn) then we can make a prettier version if we fancy
We can then think about the best way to translate this into Support tags and Github tags. We can think about how we can start to collect data and use this as a tool in our understanding, analytics and prioritisation processes.
A freaking lot of people need to be tagged in this

Support: @lbwright22 @chez @EmilyRogers @JessC @Jen
Instance Managers: @tschumilas @NickWeir @Kirsten @MyriamBoure @lauriewayne1
Delivery: @luisramos0 @maikel @Matt-Yorkley @apb @sauloperez @filipefurtado @Rachel @Erioldoesdesign @Jana
… please tag others in your circles!