1- Results of dot voting
- Be a single cohesive OFN unit:
Most of the items here had been prioritized for Q1 already.
- Build the network for the OFN:
Ability to create "derivated/coumpound products" without loosing traceability have had the higher votes.
- Future proof the tech platform:
The main priority here remains for everyone "upgrade dependencies" = Spree upgrade, which was kickstarted in Q1 but most of it will happen in Q2.
Also, data protection (GDPR) related issues have been prioritized by quite a lot of people (cookies validation + data management and deletion).
Last point that had high votes was implementing a good tool to get logs and be able to monitor correctly the app.
- Make what we have great:
Most voted items were:
the legal compliance regarding invoicing features, which includes being able to manage order amendments and issue delivery notes.
enable going through the whole ordering process on mobile
2- Curation team' outputs: the priorities for quarter X
- Be a single cohesive OFN unit:
Some of the things started in Q1 where not finished yet, so we re-prioritized the remaining important action items and added one on global communication (not the same people working on it so not taking time of developers):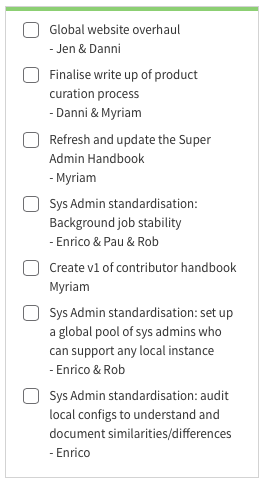 - Build the network for the OFN:
Curation team added to the Q2 roadmap an action item to run a first inception and propose a plan to implement the new network feature.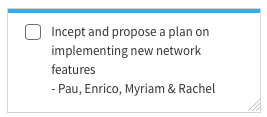 - Future proof the tech platform:
Biggest priority for Q2 is Spree upgrade.
Curation team also included in the Q2 pipe the item on "cookies policy".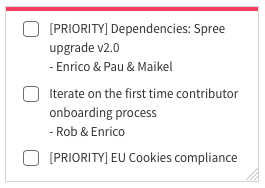 - Make what we have great:
Curation team has included in Q2 pipe a first inception on delivery note / how to issue legal invoices.
Fix accessibility of reports page, which were prioritized in Q1, has not been done so has been placed again in Q2.
First iteration on mobile shopping includes listing first quick wins from previous recommendations and agree on some first stories to push through delivery pipe.
Curation team also proposed to include smaller less prioritary stories for occasional contributors, like adding a new payment system that is wanted by various users and paid for by those users (Paybox). But others small items could be pushed through the pipe depending on how things move forward.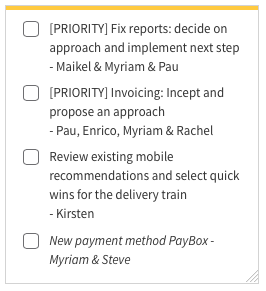 - Still remaining from last year: