After a quick discussion with @Kirsten on it I thought I would open a thread to start gathering inputs and align our vision on it.
I always say when pitching the OFN that we are both a tool and a community. A tool to enable food hubs to operate. And a community encouraging each food hub to document and share operational & business models, learn from each other, build on each other, understand the different models of food hubs, etc.
On this community side, I usually take the image that on the OFN map, our vision is that soon we can find on the map, if you zoom on a territory, all the local and sustainable food ecosystems. Some are using the tool OFN, some are not, and it's fine, each initiative is free to choose the tool that fits them best.
This argument works particularly well when talking to "local public bodies" (state, county equivalent representatives) and we hope we can manage to rally them to the OFN and start using the OFN to map their local food ecosystem


This could be part of an instance business model, that's what we are trying to push in France.
Let's imagine together, how we could map the whole ecosystem on this map: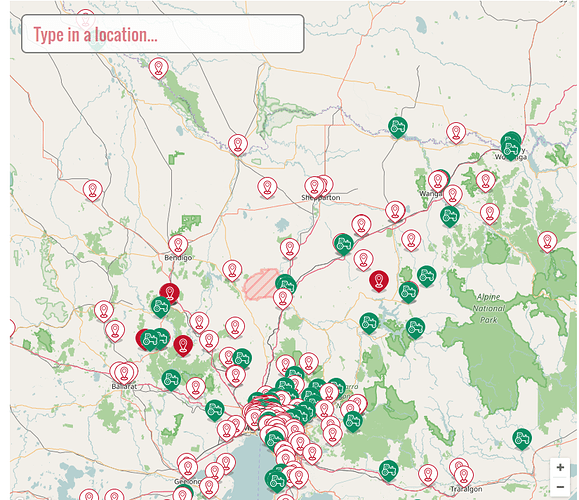 For that to be real this would require to evolve a bit the mapping tool. For me that includes:
first enable to use the Open Street Map database so that we take the opportunity of mapping local territories to enrich another friend Commons If that is difficult for some instances to switch from Google to OSM, then we should find a way to let every instance decide if they want to build up on the OSN or on Google.
then think of a series of icons that would symbolize the different types of food hubs. This also should be customizable by each local instance. For example in France we would want to map FoodAssemblies, Locavor hubs, CSA (AMAP in French), informal buying groups, cooperatives stores, local food webshops, farmers markets, organic farmer member Via Campesina (or local engaged producers labels or groups), etc. With something that identifies clearly the hubs using the OFN tool (like a small star, or a small carrot, superposed with the icon…).
then as it's going to be super messy we need to be able to filter on the map to see only this or that type of food hubs (ex: I want only to see the Food Assemblies I can hide all the other dots on the map)
I hope we can make that move in the first months of 2017 as we are going to meet with regional representatives.
So what are your thoughts on that?
@Kirsten @NickWeir @lin_d_hop @danielle @CynthiaReynolds @tschumilas @janina @JozeHladnik @sreeharsha
I opened another post on the datafoodconsortium project, which is connected to that as well: Data Food Consortium: making food platforms interoperable