Continuing the discussion from How we manage things in GitHub - milestones and also GitHub Gardening - Part 1 - Labels:
Last week @oeoeaio and I had a great session planning out how we'd like to use milestones and labels, and came up with a process for moving things through the pipe to released.
This is the second of 3 topics that I'll add, and it covers off how we'd like to use labels (other topics: wow we manage milestones and how we manage PRs).
---
CURRENT LABEL SET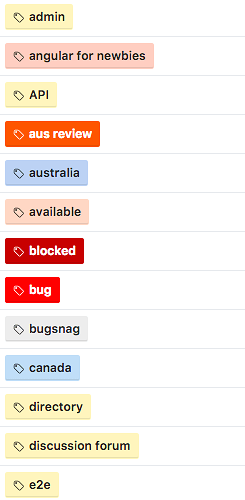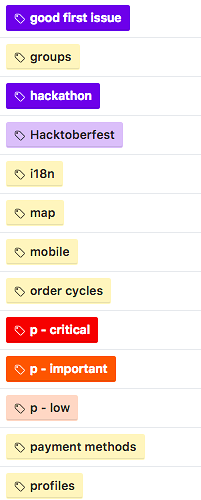 ---
THOUGHTS & QUESTIONS & IDEAS
I've used a

or

or

to highlight whether @oeoeaio and I thought each type of label was needed or not.

COUNTRY LABELS
We now have local instances represented via GitHub projects, which means if you're interested in an issue you can add it to your backlog.
However, perhaps it's helpful for whoever is picking up and developing an issue to understand which instances have a particular interest in it, so they can include them in it's design?

FUNCTION/FEATURE LABELS
We've been labelling things "payment methods" or "spree upgrade", but do we need to? Do we use them? All the spree upgrade issues can go into a GitHub Project, and how may times have you used the "payment methods" label (or any of the others) to search for issues? Would it be just as easy to do a search for "stripe" or "spree" or "directory" or "standing orders" or "tagging"? Do we need to explicitly use a label?

REFACTOR/TECH DEBT LABELS
Are we better off putting things like this into a project specifically dedicated to tech debt?

SKIP CODE REVIEW LABEL
Only used one, on a transifex PR that goes through with a release. Do we need it at all if it's so rarely used?

AVAILABLE LABEL
What are we using this for? I think it was to make it easy for us to find issues that newbies could work on, but now that we're using other labels for this it seems this label is now obsolete?

HACKATHON LABEL (ie. labels for specific temporary events)
This label was created for a Hackathon run in Berlin by Anselm quite a long time ago. Is there value in keeping the things that were touched in that hackathon labelled as such, or can we retire the label now? Given we've now also got a "Hacktoberfest" label as well, can we consider labels like this to be temporary and remove them once they are no longer valid?

SECURITY
Do we use this label, or mark anything security-related as 'p-critical' because they should be done as a priority? Or is the security label useful?

WIP
We don't use this in the AU team, and weren't sure what the value was in having it? It's currently on 3 issues, but we're not sure what it means? @sauloperez @enricostn perhaps you can explain the use for it to us?

PRIORITY LABELS
We do still use these p-critical/important/low labels, and they come in handy.

BUG / BUGSNAG
We do still use these labels, either manually added by us when there is a bug or by BugSnag when it automatically creates an issue.

RUBIES/ANGULAR FOR NEWBIES / GOOD FIRST ISSUE
These labels are super dooper useful!

AUS REVIEW
This label is what helps you get the attention of the AU team, and what helps the AU team manage their backlog of requests.

BLOCKED

EPIC
Zenhub label, can be used if you'd like to group issues under an epic and you have Zenhub.

LABELS WE WOULD LIKE TO INTRODUCE
PR test ready - this will make it easy to filter the PRs that are ready for testing, and for devs to be able to request testing when their PRs are reviewed and ready. As we build a pool of testers across different countries they (or the devs they work with) will be able to look at any PRs labelled with this and stage/test them.

PR no test - some PRs don't impact any functionality and therefore don't require manual testing. When this is the case using this label means that pesky people like me who can't tell by looking at the contents of the PR will know not to expect it to be tested before it's merged.
---
OK, so now it's over to you all for comment. Ping @MyriamBoure @sigmundpetersen @lin_d_hop @Matt-Yorkley @sstead @NickWeir @Kirsten @enricostn @sauloperez. I'll give this more time for comment, and will look to implement the results of our discussion into GitHub in the week commencing November 6