Hi everyone, we are a group of students from Costa Rica trying to adapt OFN for our country(@jefgomez @dberrocal).
Days ago we talked with @MyriamBoure, and we showed her the UX Dashboard we are building, she told us about this community and we want to introduce what we got. It looks like this: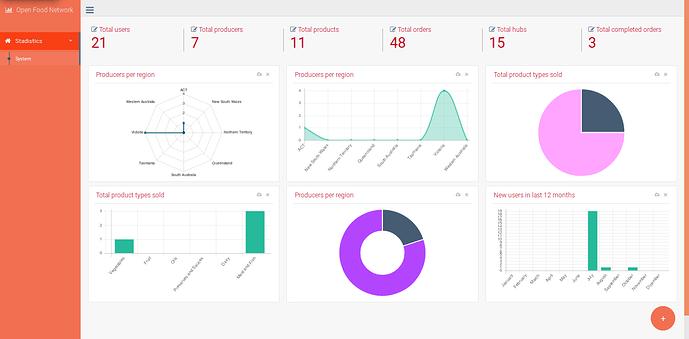 These are some important details to know:
Is not finished yet, we are still working on it.
The Dashboard is working on the OFN platform.
We are still learning about Ruby on Rails.
Any suggestions will be amazing.
We chose five main categories to create different charts:
General:
Most used shipping method.
Most used payment method.
Products:
Best-selling types of products on a period of time.
Hub/Producer:
New Hubs/Producers on a specific period of time(Year, month, week).
Hubs/Producers per region.
Users:
Users last connections (Monitor user activity).
New users on a specific period of time (Year, month, week).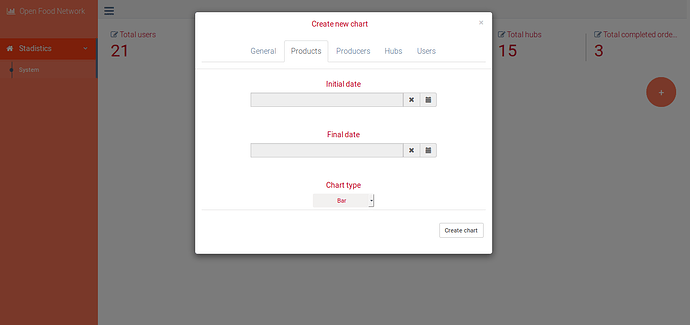 Another functionality is to download any chart as png file, we added this because we thought it could be useful if people need to add this kind of information to a document.
Our main objective of creating a UX Dashboard:
Useful and the system doesn't include one yet.
Transform data into useful information, easy to understand.
Creating this helped us to understand how the platform works, so maybe in a future we can help developing some new tools or solving issues.
As we said, we are still working on it, so if you guys have any kind of suggestions or questions, feel free to tell us. Also we will like to know what you think about the filters.
Pura vida!