We had a session at the last Drome gathering on Theory of change, driven by @lin_d_hop after they did the same job for OFN UK (see UK version here).
Some keywords were captured here by @NickWeir who worked on a first draft version (in the same document), and then on a summarized version here.
After the meeting in Geneva with Free IT Foundation / Open Business Foundation founder, we realized we need a more "easy to understand" version, synthetic and visual, to communicate it at first glance to potential funders.
I then firsttried to rework on Nick document, trying to clarify and simplify, but quickly realized the text format is hard and we try to vehicle too many ideas. So I investigated a little bit more on the Theory Of Change itself and found interesting examples like those two:
https://apeironglobal.org/wp-content/uploads/2017/11/Apeiron_TOC_APEIRON_eng_NoP.png
It clarified that the "mechanism of change" can also be called "outcome pathway", or how different outcomes, short, intermediate, and long-term, are pursued through the project activities, the long-term one being what we call our "vision".
Also, it seemed meaningful to me to merge the "inputs" and "activities" in "our response" that enable to quickly communite all what we HAVE (built, gathered, etc) and what we DO. It seems that's the way most entities doing their ToC do.
So I finally summed all that in a synthetic visual representation, that obviously doesn't try to capture everything, but mostly, the "essential". https://docs.google.com/drawings/d/1JMifIwTVelnQrDL9Dcr3Ntp6cQudjjliFNcJ4HyvjN0/edit?usp=sharing: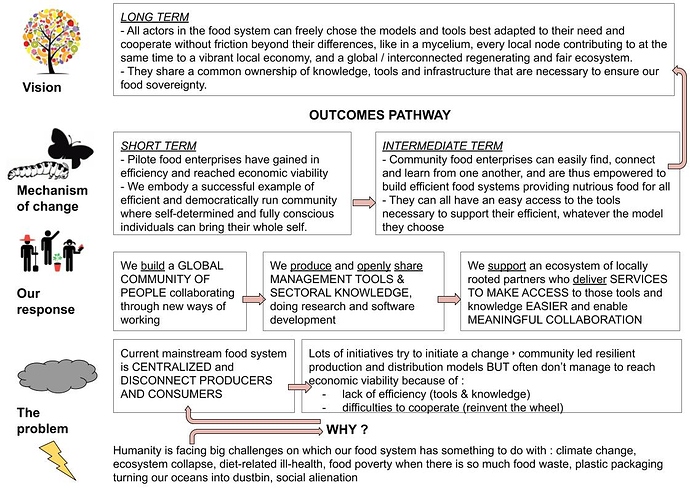 I think it might require a bit of clarification between the short / mid / long term outcomes. At least I would like some feedback / discussion if required with some of you. I tried to still capture some of the keywords we used in our collective brainstorming, and I tried to remain connected with all the ideas we shared to somehow aggregate all that in this synthesis… but let's see what you think about it.
We need to share this asap with Lionel in Switzerland, so thanks for your feedbacks !
@Kirsten @Jen I know you reviewed the first version so including you in that loop.