Continuing discussion from A first iteration on product chain logic enabling full transparency
Fees are charged by the hub for services she offers either to the suppliers or the customers, mostly for logistic services.
I propose to adopt the same logic for Shipping and Reception options:
A shipping option apply to a Customer Category / A reception option apply to a Supplier category
Fees can be fixed amounts or % (various calculator options) > for producers they are calculated on the price offered by the supplier to the hub
I made sure I separated the "place" from the "shipping option" so that we can later on filter based on places
I didn't add the "start date" and "end date" but as for shipping options (see OC redesign) reception options should precise between when and when the products will be collected at the farm / received at the hub. We need that to enable to display "upcoming deliveries" to supplier dashboard, and also for Data Food Consortium to build mutualized logistics solutions.
Here is a model proposal including those fees management: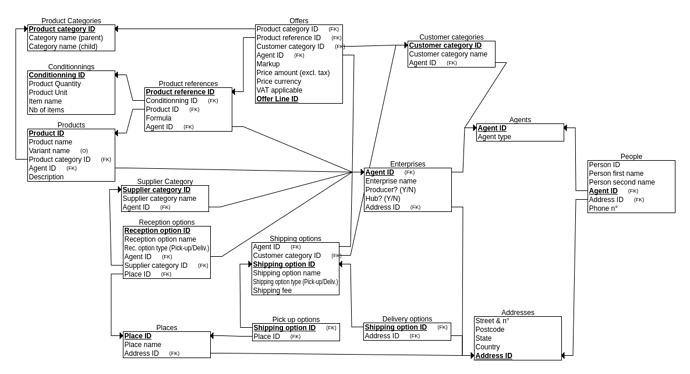 And here is an instantiation based on the Alterconso example on logistic services they offer to their suppliers.