Hi all,
The global gathering is still some months away, but given how busy we all are it will come around quickly and we should firm up some key topics in the coming months that feel like the biggest and most important to have.
So, I'm kicking off with a pitch for the group that will go into the OFN Platform stream of discussions:
Review & Refresh the key areas of focus set in December 2017
Way back then at the first ever gathering of the global community we set out 4 key areas of focus that we thought were the most important in the evolution of the OFN platform.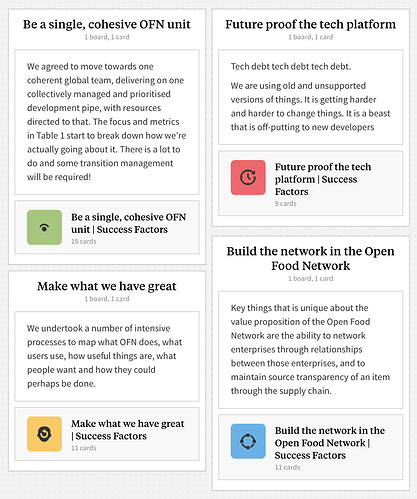 It's been over a year since then, so this gathering just under a year and a half later is a good point in time to stop, reflect on how well and to what extent we have achieved what we envisaged back then, and refresh these based on where the Platform and OFN as a global organisation have evolved to now (Gaps that are important enough to fill? No longer the same level of priority? Achieved and ready to be closed?).
It's a great opportunity to identify and celebrate successes and determine where we want to steer the ship for the next year or two. Exciting!
Ping @NickWeir @Kirsten @MyriamBoure @lin_d_hop @Jen @tschumilas @sauloperez @luisramos0 @maikel @Theodore @Matt-Yorkley @lauriewayne1 @MSFutureFarm and anyone else who will be either present at the gathering or dialling in from home at all hours of the day/night.