Internal Communication
Slack conversations are confusing to newer people, and to people who drop in and out. Mikel suggests that the problem might be how we use Slack, rather than the tool itself
Filipa suggests people get use to this format once you go across a certain threshold. Important that the tool be functional for the people who are very involved as well as for people who necessarily dip in and out.
Rachel – Slack shouldn't be for storing information that people will need to find again. It should be treated as a live chat tool. Everything we need stored and accessible to those dipping in and out should be on Discourse.
Bérengère suggests we need a short welcoming text on how to use the tools, what each is for

Rachel points out that this is already in the handbook, but nobody reads it. How can we identify a better way of organizing this?
Information Management page: Information management - OFN handbook

Rachel suggests we should be careful to limit the use of private messages on Slack, so information can be shared more widely, information can be drawn from a wider pool rather than relying on the most visible, experienced people
Bérengère – maybe we can be more systematic in our self-summaries on Slack
Use the Description and Pinned Post features on Slack to include key information, links to guides, etc.
Dispatcher role? To facilitate newcomers, guide on where to find what, etc.

Could be one person overall, or one from each circle
Nick has been doing this with one or two other people. Maybe we need more people as the organization gets bigger. Buddy system?
Regular Intro sessions on Zoom?
Nick could record an onboarding session so newcomers can watch back and follow along
Buddy system advantageous because it spreads the responsibility, encourages everyone to do maintenance work on the communication infrastructure
Nick enjoys doing this role, and doesn't want to push this responsibility to instances who don't have the capacity
Rachel highlights that buddy system risks encouraging too much private communication. Calls for buddies to copy their information to a public channel.
Maybe we can start with anyone who wants to join the buddy group. Newcomers can then join this Onboarders Circle too.

Gaelle points out that it's important to keep at least some tools accessible to those without high technical literacy, good internet connectivity, etc.
Rachel – we need to remember that circles are autonomous and define their own tools and platforms suitable to their own needs

Could add to Information Management page lists of which tools each platform uses
Is it effective for different circles to use different tools if we have people shared between circles?
Slack and Discourse are mandatory for everyone. We tried in the past to decide on a shared task board platform, but it seems that we cannot fix one for such different circles.
Nick points out that one-off projects can get lost in this diversity – e.g. this European Gathering was organized by different people on separate platforms because there was no one clear owner/working group. So a clear decision on platform is important from the outset of any such project.
Mikel suggests these decisions can be posted to Discourse so everyone has access to the information and can pick up the project if the original organizers need to drop out
Values: Transparency, efficacy, user-friendliness
Introduce newcomers to the communication channels:
intro messages
buddy system
Clarity around tools:
Slack – info with a short lifespan; favour public over private channels
Discourse – info with longer lifespan
Google Drive and GitBook – info that becomes knowledge and needs to be stored and accessible long-term
External Communication
Communication circle – little energy, needs rejuvenation

Rachel points out that all of the external communication was led by Jen, and she doesn't have time for this anymore, so there's a need for someone(s) else to take over
There are channels important to the work of a communications team that everyone needs to be aware of so they can contribute their knowledge:

Social media handles for OFN, well-followed but not much used
Video explaining what OFN is doing – on Google Video right now the results are mostly Zoom recordings of Myriam talking about very specific aspects

Nick points out that there are videos from Canada and Aus that are maybe out of date, but we should try to make these appear in results before the Zoom recordings

Podcasts, other rich content?

Sam has a friend in TV who expressed interest in including OFN in a documentary about e.g. local food systems in Europe
Filipa also knows someone in Ireland who could be interested in this
Blogging – be proactive in approaching different outlets to host blog posts we can write about OFN and its impacts
Communication with potential institutional funders, supporters:
Need to network with academics and research institutes
Can use social media, etc. to gain visibility and connect with e.g. private funders.
Update on Communications Circle and Time Bank Project
Each circle needs a coordinator, but there's a lack of coordinators in OFN overall
Filipa proposes to create a time bank structure as a pilot to reset the communications circle
Filipa will be the coordinator, Thomas Choppy also working on this
The time bank is designed to pick up everyone's ideas, turned into clear tasks of various sizes, which will be publicized as available to be picked up by anyone within OFN
A way to avoid overloading volunteers who are happy to take on specific tasks but don't necessarily want to take on more responsibility than that
Can go out and search for new volunteers too – e.g. recent graduates looking for experience
If successful this can roll out to other circles
Organized through Notion
Next Meeting
Where: Greece
Could be as early as the end of March, as late as the start of May
Dependent on Covid-related restrictions
3 days of full work. Important to also have nature time. So 4-5 days overall.
How can we support the global network?
Volunteering
Staff
Budget
Other?
We did breakout groups on these topics, summarized in the following images: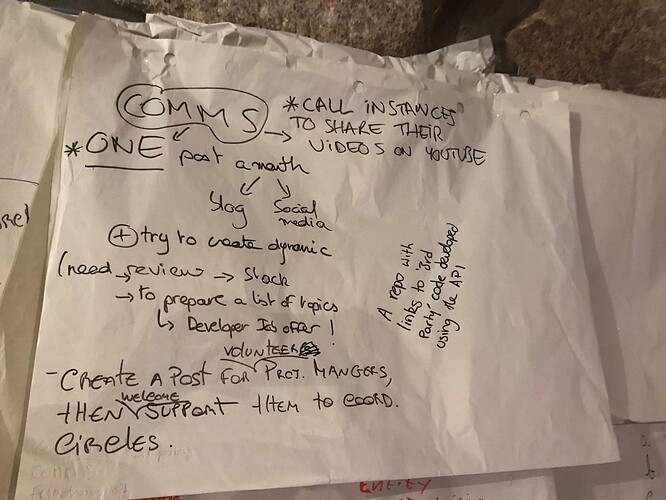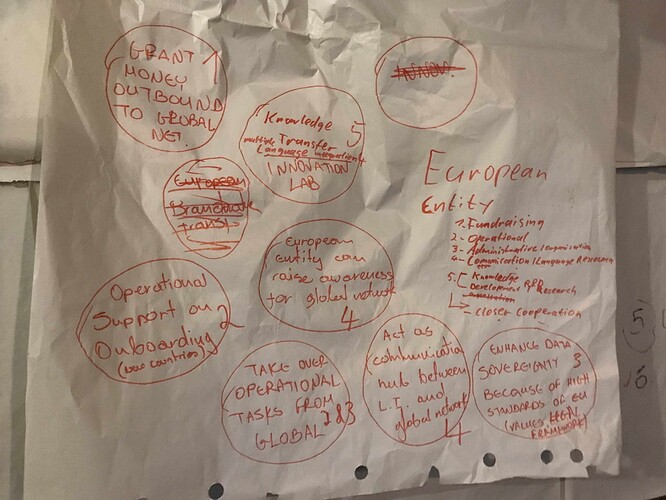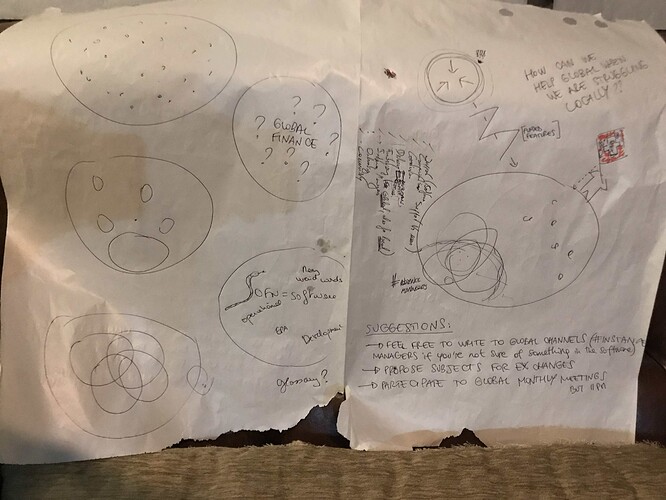 To-dos
o Bérengère is writing up a summary of communication channels (drawing from Info Management)
o Initial mapping of tools for each circle – add to Handbook
o Ask for volunteers to the Onboarding Buddy System Circle
o Create new task board for OFN Europe circle
o Refactor the website to ensure it's up to date
o Ensure communications toolkit (media assets) are accessible to new instances
o Create automated integration between instance social media accounts and those of OFN Europe / Global