Done since last week
In play - Core Pipe
In-play - Funded pipe
API
DFC/OIDC Authentication – DFC Open ID connect: no update since last delivery circle - Really close to be merged. @Rachel will see with the Belgium team.
In play - Contributor
Some contributors did some nice PRs: thanks!

2. Next Up
NO UPDATES FROM HERE ON
Ready To Go
Inception/Design
History of invoice changes (Rachel + ? ) - Unblocked. Needs an in-depth meeting, when everyone is available.

There are plenty of potential solutions and the best technical approach needs to be found and will be explored after Adjustments is complete.
Ready for Inception
Invoice number system (Rachel + ?) - waiting for re-inception, but linked to history of invoice changes.
Improved reporting - We need to think about a general technical approach for this. Tax reporting might be a good a time for this however the overall improved reporting project will be worked on after History of Invoice changes.
Backlog
Discussions
@maikel Should select some "hard" issues for hiring a full-stack senior dev
@Rachel and @jibees will prepare the second meeting after the first one (the one to re-approach as humans) and see how it goes, and what we need afterwards.
Roadmap questions : things haven't move that much.
Dev availability:
@maikel will probably have around 14h per week until end of the year (with one week off around christmas)
@jibees will probably have around around 28h per week until the end of the year with two weeks off (first of november and around christmas)

@nihal

25 hours a week.
Estimate (like tee shirt size) are needed here (@Matt-Yorkley and @apb

…)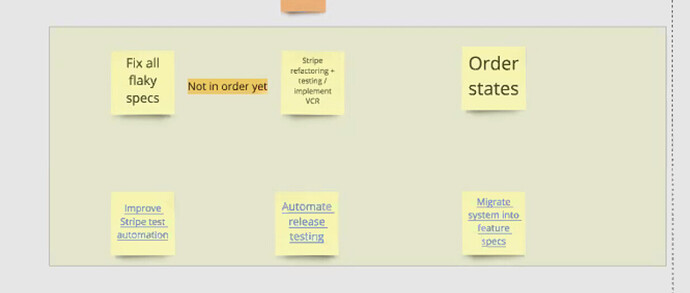 Some of the items can overlap (between "Fix all flaky specs" and "Migrate system into feature specs" and "Improve Stripe test automation" and "Stripe refactoring + testing / implements VCR")
Draft:
Migrate system into feature specs: can be done by the end of the year.
From previous meeting:
Bug-severity system
@apb Discussion around the new bug-severity system should go on discourse - no updates.
NEXT MEETING:
Tuesday October 26th 6PM UTC
Moderation: TBC
Note-taking: TBC