This is Phase 2 of the feature that was originally called 'Enterprise Accounts' but was renamed to Enterprise Index Rebuild. It is also related to Business Model Configuration
Phase 2 - Towards Payments
as an Enterprise User, I can:
Understand the payment implications of my choice of package for each of my enterprises (and see how much is accumulating)
See my current aggregated outstanding balance
See monthly account balance totals, and a breakdown in the form of a transaction history
Add service packages/memberships to my account
Manage my payment methods
Make a one off payment
Set up automatic payments
Proposed interface
Basically a tabbed interface, making the related but distinct aspects of user account management easy to switch between.
Part 1: Enterprises
Shows a list of the enterprises owned by the current user, with a summary of the package, turnover and bill for the current month for each user.
Clicking on a row opens the billing history for the relevant enterprise in reverse chronological order. Star designates current (incomplete) month
Could also have a list of available packages/memberships at the bottom of this list, or in a separate tab (not sure which yet).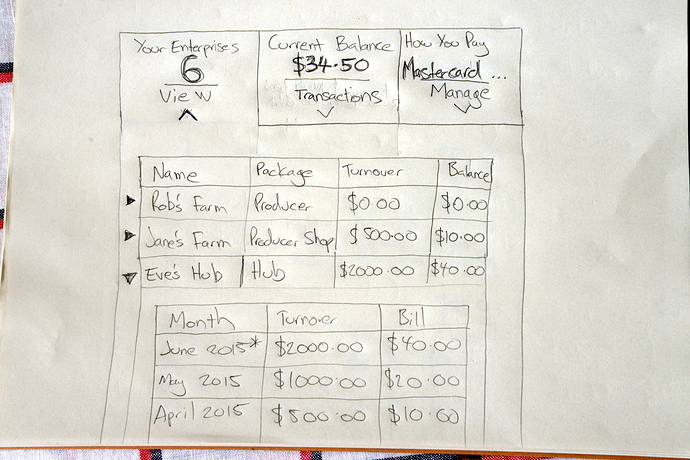 Part 2: Transaction History
Tab gives the current outstanding balance for the current user
Panel shows a full transaction history for the current user, basically a breakdown of all charges (per enterprise, service package and membership) and all credits (payments).
Split into calendar months to easily show month by month breakdown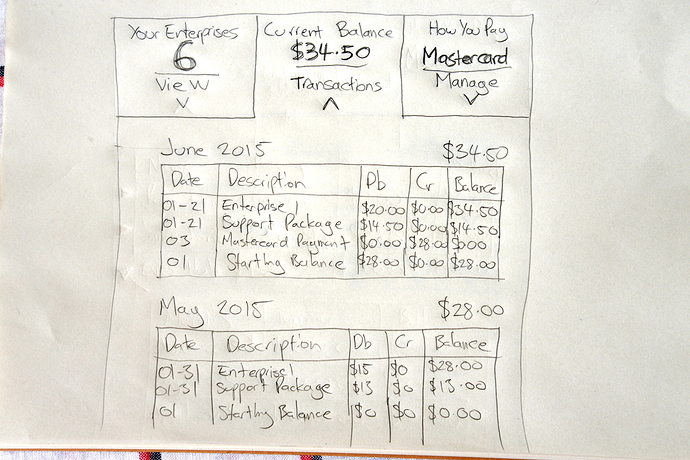 Part 3: Payments
Tab shows the name of the default automatic payment method if one is chosen, otherwise just shows 'Manual' or something.
Top of the list has a button for creating a new payment method, this takes the user to a separate interface for adding a new method
List of payment methods gives a summary on the left and allows three actions on the right: make payment, manage, remove.
'Make payment' tab allows the user to make a one off payment using the relevant payment method, gives the current balance as a default choice for the amount to be paid
'Manage' tab lets the user update payment method details (and I think we should move the 'remove' button into the manage tab, it doesn't need its own column)