Clarification
One note to avoid confusion when watching the videos
When inventory is used, the unit price should always be based on the inventory.
As stated in the Acceptance criteria:
If enterprise user is using the product list only, display unit price from product list
If enterprise user is using inventory to create a different price,
display unit price from product inventory (because the inventory unit
price overwrites the product list unit price)
The unit price reflects the price of the shop, not the unit price of the original product (or variant) in the product list
Thanks for your feedback @tschumilas! Commenting on some of your points:
Agree that price per 1 item is redundant, because that´s the purpose of the unit price: indicating the price per unit (whatever this is, kg, g, l, item, bunch) in which it is sold.
Columns in Admin
Regarding Theresas suggestion to have it as the last column in Admin: the reason why we have it next to price is because unit price and selling price are very much connected logically. This is why they have to be close to each other for shoppers, both offline & online. So the same thing should apply also for Admin users.
Here is an example of how unit prices are used in supermarkets. Maybe that helps with the confusion around items:
But the unit price never uses the 'unit name' I give it. That is confusing. I don't understand what this is comparing when it says it is a cost for 1 item
Item is simply the unit used per definition if goods are not sold by weight or volume but in pieces. No matter if you name that piece bunch, quiche or lemon.
(Also from a technical point of view it is much simpler if it is always price per item as soon as a user chooses Item as Unit Size when creating the product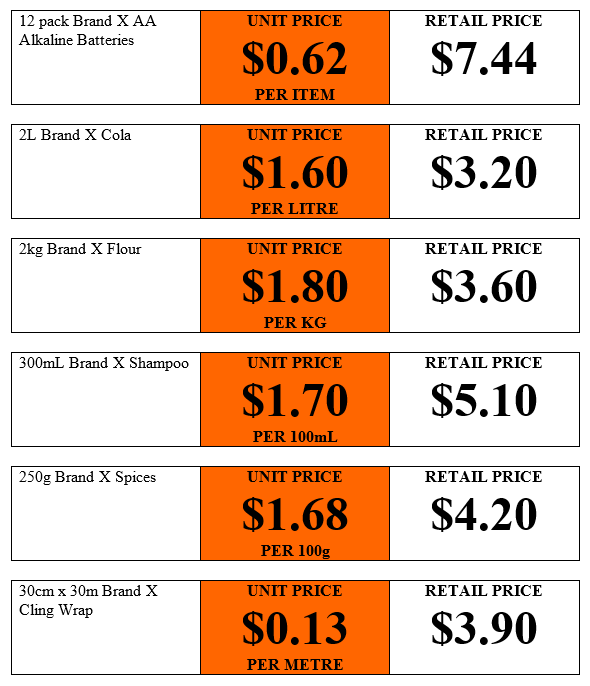 And sure, the column can be hidden as the other columns (we would not hide it per default though, as users should be aware of this being a new feature).