Continuing the discussion from: Co-budget Trial - starting now til 12 July
We decided in the February global hangout to coordinate a team of local stewards for co-budget.
I make this post a wiki so that we can keep up to date the list of local stewards so that we know who to ask for if we want to put money in a co-budget account, whether it be a personal one or a local instance one.
The team
Steward for the global process and team support: @MyriamBoure
France: @MyriamBoure
Australia: @Kirsten
UK: @NickWeir? or @lin_d_hop? or …?
Scandinavia: @sigmundpetersen
Canada: @tschumilas
Spain: @enricostn ?
India: @sreeharsha
South Africa: ?
Germany: ?
I invite the steward teams to join the #cobudget_ofn channel on Slack.
When we get the team right I'll grant you admin rights, so you'll have to be careful

And I'll propose you a dedicated Hangout session to learn how to use co-budget so that you can then do-it-yourself

The role of the stewards:
Each steward is in charge of:
giving access to co-budget for contributors from their local community. Any contributor of OFN can have access to co-budget so that they can see transparently how the money flows within the community, and maybe also start contributing if they can! BE CAREFUL: one email address can only be used for one account. So if someone manages the instance account and his own account, (s)he should use two different emails.
uploading new amounts on co-budget accounts whenever asked by their local community
keep the stewardship spreadsheet up to date so that the whole community can be aware of what's happening, and we keep track on what is done in co-budget.
First things to do
First thing to do will be to clean up the accounts and amounts for your local contributors, which means:
-Ask your local folks to go into their account and click on "profile setting" (top right corner), and change the name so that it appears clearly on the funders list. For example, in my case, I'm managing three accounts: my personal account (name = Myriam Bouré, email = myriam.boure@gmail.com), the OFFrance account (name = Open Food France, email = myriam@openffoodfrance.org) and the account of one of our users who doesn't speak English but wants to contribute (name = Suteau Biosol, email = myriam.boure@ntymail.com).
-Check with them if the amount on their account is right or not and if not, make the relevant correction (see below "upload money on an account")
-Update the stewardship spreadsheet with the updated information (tab "members and balances", don't touch the balance column, it's calculated automatically ).
If you are missing people, add them through "invite people" button, be clear on the name so that they don't have to change it Remember to add them also in the stewardship spreadsheet!
##Upload money on an account
This is super easy and don't worry, if you make a mistake you can correct it


1- Click on "manage funds"



2- Then click on "update by csv file" on the left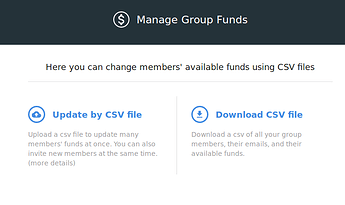 3- Prepare an excel type spreadsheet with two columns: the email corresponding to the account you want to impact and the amount to upload (if you want to withdraw money from an account, just fill in "-200" for example). Save it as a "csv file".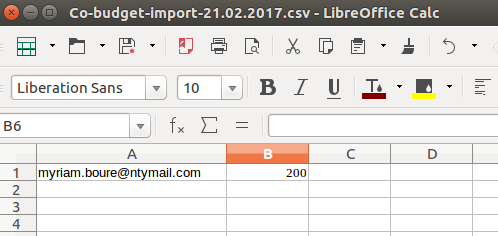 4- Select the file in co-budget, see the result, and click "confirm" if you are happy with it

5- Remember to keep track of what you did in the
stewardship spreadsheet
(tab "added funds")
##Keep track of money spent
On the third tab of the stewardship spreadsheet (tab "allocated funds") you will keep track of the money spent by the account on buckets, so that you can follow up if the money has been transferred or not.
Taxonomy
Also I suggest we use some common taxonomy on how we name the buckets so that it doesn't become a mess super quickly and so that we can use Co-budget with flexibility. So I suggest we start all bucket by some [CODE]:
[FEAT] = a feature we want to crowdfund
[CORE] = the core Commons buckets
[AU], [UK], [FR], [NO], [CAN] = local buckets if local instance want to use co-budget to manage local stuff
How to describe a bucket?
For clarity and transparency about who gets paid for what, it's important to be clear and specific in the bucket description.
Here is a template I suggest, feel free to modify of course:
Context
Tasks list included/not included in the bucket
Calculation of the funding target
People who are going to work on it and how much each one will be paid
Volunteer contributions to this role
Local instance in charge of collecting and distributing the money
Links to community discussions
So let's set up the steward teams and I'll plan a hangout