Unfortunately I can't tell you much about most of the settings on this page (if you know about these settings, please chime in). However…
Enterprise Terms of Service - This setting allows an instance to require all new users signing up via the /register wizard to 'accept terms and conditions' before they can create a profile. The screenshot below shows what new users will see if this setting is activated.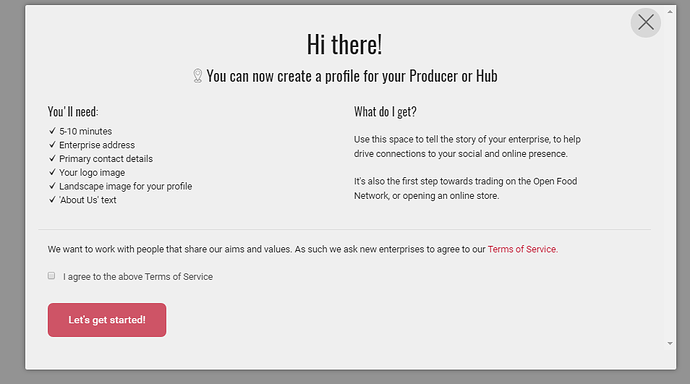 The Terms of Service link can be set for the instance by going to Configuration > Content, 'Terms of Service' field. If activated the user won't be able to proceed without selecting the "I agree" tickbox. If this setting is not activated all users will be able to create a profile without any mention of Terms of Service. Note regardless of if this setting is on or off, the Terms of Service link is always included in the footer of each instance's homepage, and in the footer of Welcome to OFN emails sent to new enterprises.
Embedded Shopfront Settings
Each instance has the choice of enabling or disabling embedded shopfronts. You can turn the feature on and off.
If your instance is enabling embedded shopfronts, you'll need to give each user permission to embed their shop on their external website. To do this you need to enter their external website URL in the 'external domain whitelist'. Write the URL without www. or http, as shown below. Separate each by a space. Only once the external URL is on this list will the user be able to embed their shop on that website.