What is the need / problem
OFN supports users being in credit on their accounts. Users are able to see this from the Accounts page. Hub managers are able to credit users accounts if they wish manually. However users are currently not able to spend this credit.
This is problematic for a number of reasons:
Hub managers often have to process small transfers to customers to refund them when goods are damaged or not delivered. This is very common in pre-ordering systems and so creates substantial tasks for the hubs. For some hub managers this means that they do not use the payments systems in OFN at all, taking payments through external accounting software.

Some hubs want their members to put money on their account/wallet before they can buy anything in a shop and use that "wallet" to pay their order. They want that in order to reduce non-payment risks and reduce fees they pay on payments (usually there is a fixed fee per payment in any payment gateway). For that they need the users to be able to pay with those credits on the first hand.
In short, customers need to be able to pay with their account credit at checkout. This might be a partial payment or full payment.
Questions : shall hub manager be able to enable / disable that behavior ?
Lynne: For the UK this will be important as some hubs have complicated work-arounds to this problem by using external accounting systems and they wont want to change their systems because of this feature.
Who does it impact
Any hub that has to process refunds for undelivered goods.
Mary/Shannon who work today with advance payments models. In France for instance Alterconso.
What is the current impact of this problem
Hub managers spend much extra time processing tiny refunds.
Hub managers use external OFN software to take payments, which significantly devalues OFN to them
Prevent use of OFN: hubs that works like that can't use OFN today, even if they would like to.
What is the benefit in focusing on this
This is a basic ecommerce expected feature
Causes significant customer pain when they dont have the correct OFN credit, meaning hubs lose customers
Hub manager have to deal with angry customers and many small refunds to keep their business operating.
Get new OFN users.
Potential solutions that will solve this problem
Option 1: if credit, automatically deduced from bill when on checkout page by adding a new line on the summary, on the right side of the page "Credit = (x€)" and so amount to pay is adapted, credits are deduced automatically.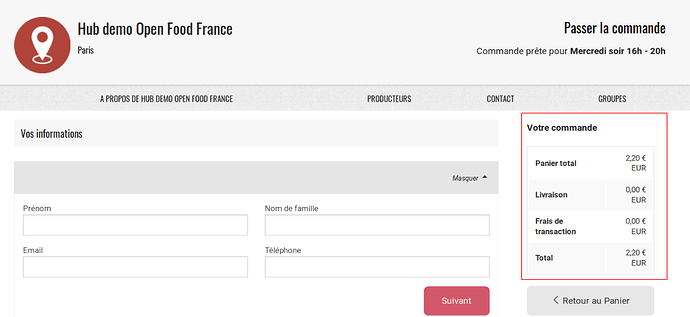 Option 2: add a checkbox for shoppers to be able to choose to use their credit on this order. Probably not a great solution.
Option 3: when there is a credit for a given order, a voucher code is generated automatically for the amount of the credit, and can be used as a discount in a next order. This gives the shopper flexibility and simultaneously solves another user need. It would also be more compatible with some user systems that use accounting software as a workaround to this issue. However it is not the most intuitive solution.
Option 4: Enabling 2 payment methods at checkout (overkill).
Discovery reflections
With current OFN checkout,you can only checkout with one method. UX suggestion = if customer has credit, whatever method is chosen, credit is used first and only the difference remain as balance due and needs to be paid, either by card at checkout, or other payment method.
We need to adapt the UX so that if the customer has a credit, when she clicks on "checkout" she is notified that as she had X remaining on her balance, she would owe X / or X€ only have been charged on the credit card.
T-shirt size of the selected feature candidate
TBD
Metrics to measure if need is well satisfied after feature has been implemented
TBD
Feature owners :
Epic and/or project board where you can follow implementation
Placeholder Epic: https://github.com/openfoodfoundation/openfoodnetwork/issues/3443
---
Connected wishlist and discovery discussions